How do you find the best professionals for your project?
Productivity and quality - two criteria that each of your contracted professionals should bring with them and which will determine the success of your project.
But how can you guarantee this?
The FROSIO certificate: the best guarantee of cooperation with contractors in the field of corrosion protection.
Your FROSIO compass
You have not heard of FROSIO or the GuiD-CP guideline yet?
Download our free information material and find out why it is worth trusting in the certificate.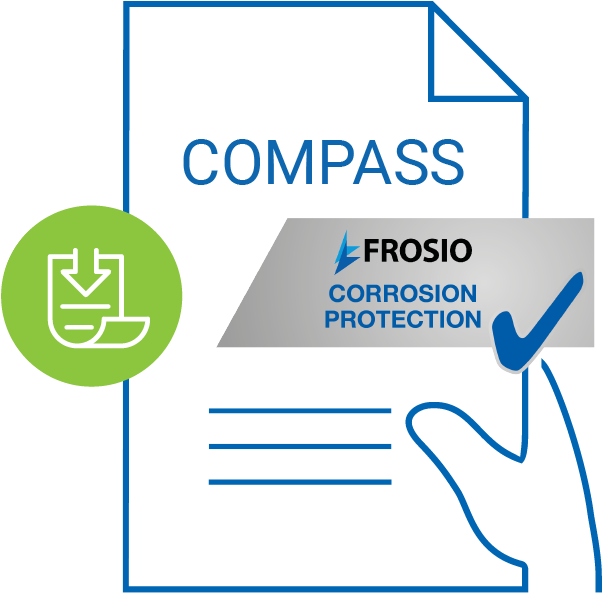 We will answer your questions:
What exactly is the

FROSIO-GuiD-CP

?
Which companies can be certified?
What advantages does it bring for your project?
Which project areas are covered by the certificate?
How do I find certified companies?
Brilliant security in all areas
Corrosion protection work on:
- components
- other products
- new buildings
Restoration and repair work
Inspection and testing activities Procedures
Organic coatings
Thermal spraying
Hot dip galvanizing
Duplex Coating Systems
Mechanical Engineering
Pressure equipment
Automotive engineering
Rail vehicles
Offshore
Demand-oriented certification in 3 levels
Depending on the complexity of the corrosion protection work and the targeted protection duration of the corrosion protection, your company can be certified in 3 different levels.
You are subject to different strict requirements depending on the respective certification level.
FROSIO-CP-C
Comprehensive quality requirements
Protection duration over 25 years
Different CP processes or a complete production are carried out in the company
FROSIO-CP-S
Standard quality requirements
Protection period from 7 to 15 years
Different CP processes are executed in the company
FROSIO-CP-E
Elementary quality requirements
Protection period under 7 years
Individual CP processes are carried out within the company
Your advantages at a glance
Proven qualified contractors for your project
Proven qualified contractors for your project: Companies certified with the FROSIO-GuiD-CP meet the highest quality requirements for the execution of corrosion protection work: They have qualified personnel and have demonstrated suitable processes and facilities.
Clear requirements for products, processes and personnel
Instructions for the corrosion protection work can be precisely defined with reference to the requirements of the FROSIO guideline, the alignment with legal regulations is given.
Quality improvement
Confirmed quality standards are observed in projects. Annual monitoring audits.
Security during contract negotiations
Certified contractors undertake to comply with the corrosion protection standards specified by FROSIO, so that these can also be fixed by contract with the client.
The all-round quality package for your project
You can rely on your FROSIO-certified partner company.
Do you have any questions? We will be happy to advise you!
Let our experts from the FROSIO approved audit body SLV Duisburg advise you.
FAQ about FROSIO certificate
What is FROSIO?
FROSIO is an organisation founded in Norway in 1986 for quality assurance in corrosion protection and surface treatment with the highest international reputation. Their guideline FROSIO-GuiD-CP defines the quality requirements for companies that carry out corrosion protection. FROSIO-GuiD-CP is currently the only certifiable system for a corrosion protection company.
What are the advantages of a certificate for my project?
FROSIO is an internationally highly respected institution. The companies certified according to its guideline meet the highest standards of corrosion protection with suitable processes and equipment and have qualified personnel. Annual monitoring audits ensure that the quality requirements are met.
Which services are covered by the certificate?
Corrosion protection work by thermal spraying, hot-dip galvanising, coating with organic dyes and duplex systems. FROSIO-GuiD-CP specifies and supplements the general regulations of ISO 9001 for the field of corrosion protection.
How can I find a certified company?
All certified companies are listed on the FROSIO website. Soon there will be a FROSIO database, which will offer clients a search and selection facility to help them find suitable companies for the services they require.